Name: Amber Gurung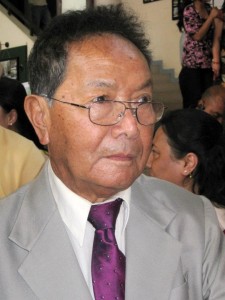 DOB: 1938-02-26
Birthplace: Darjeeling
India Father: Ujir Singh Gurung
Marital status: Bina Gurung
Children: Kishor, Raju, Alka and Sharad
Occupations: Composer, singer, lyricist
Award: Uttam Shanti Shahitya Puraskar (2007) Kantipur FM Lifetime Achievement Award (2006) Hits FM Lifetime Achievement Award (2001) Madhurima Phulkumar Mahato Puraskar, Kathmandu (2000) Tuborg Outstanding Award (1999) Image Award, Image TV, Kathmandu (1999) Jagadamba Shree, Kathmandu (1998) Bhupal Man Singh, Kathmandu (1998) Sha-Shanka, Jhapa (1996) Giri Puraskar, Darjeeling, India (1994) Golden Flute Award (CEDOS), Sikkim, India (1993) Indra Rajya Laxmi Pragya Puraskar, Kathmandu (1987) Chinalata Puraskar, Kathmandu (1983) Gorkha Dakshina Bahu, Kathmandu (1971) Gold Medal, Radio Nepal, Kathmandu (1970)
Amber Gurung, a musician and singer was born on February 26, 1938 in Darjeeling. Though Gurung is originally from Gorkha, he spent most of his childhood in Darjeeling, India and later moved to Kathmandu in 1969.
Amber Gurung is a veteran musician of modern Nepali songs. His knowledge of choir singing, jazz and symphony has given Nepali music a new direction.
He has his two siblings, an older sister and a younger brother. His father wanted him to join the armed forces,but he was intrested in music from childhood age. So, his mother encouraged him to sing and compose as a child, and he taught himself to play both Indian and Western instruments.He taught himself to play violin, piano, guitar, mandolin, tabla and several other instruments. In 1950s Amber Gurung started a music institute, The Art Academy of Music, in Darjeeling. He also studied at Turnbull School, Darjeeling, where he had fallen in love with music singing Bible hymns. He served as Music Director for nearly 30 years. His first recorded song 'Nau Lakhe Tara' written by Agam Singh Giri in 1960, made waves throughout the Nepali world, both in Nepal and India.
He inspired from such as Narayan Gopal, Gopal Yonzon, Karma Yonzon, Ranjit Gazmer, Jitendra Bardewa, and Aruna Lama. Alarmed by the song, the government of West Bengal offered him a job at the Folk Entertainment Station in 1962. In 1967 he joined the prestigious Dr. Graham Homes School as a Music Teacher. Gurung gave up the job in 1965 and spent several difficult jobless years, until he was invited in 1968 by King Mahendra to permanently live in Nepal and chair the Music Department of Nepal Academy. Gurung has recorded many albums as well as singles. He has also composed the music for many musicals, and documentary and feature films. In 2007, Amber Gurung was invited by the Government of Nepal to compose the music for Nepal's new national anthem. He has also composed the music for many musicals, and documentary and feature films. Leading the Music department, he wasn´t a policy maker at the academy and could do little in the way of enriching Nepali music. As Chancellor of Nepal Music and Theater Academy where he was appointed nearly four months ago, Gurung wants to make up for those years by devoting his energy on developing orchestra, apart from researching the music of nationalities. The best thing about orchestra is it does not have a language barrier. His 3 sons, were all inspired by their father and are into music. Gurung also perform in many countries like UK, US, Hong Kong, Japan, Philippines, China, Malaysia, Spain etc.
He Composed/conducted the first Nepali chorales in 1988. He honoured with more than 25 life-time awards and facilitations. He published 3 books: 2 volumes of lyrics, Samaalera Raakha and Akcharkaa Awajharu , and an anthology of essays and memoirs, Kahaa Gae Ti Dinharu , which won the Uttam Shanti Shahitya Puraskar for 2007.
Harayejhai Kehi Lagcha
Hasney Rahar Haru
Jindagi ko ke kura
Jungi Nishan Hamro
Phoolai Sodhein
Sabai Yaad Aye
Timi Bhulm
Ma Door Bhayara K vo